HALO LABS INC.
USA: AGEEF  |  Canada: HALO  |  Germany: A9KN.MU
Last Price: .247  |  Website  |  SEC Filings  |  Latest News
Traders are funny.
Because, let's be realistic.  Most don't have the foresight to know when something is a good deal.
Most traders need affirmation and have little patience.  They need the Street and the talking heads on CNBC to be ecstatic about something before they pull the trigger.  And then when the hype reaches a fever pitch, they get in too late.
Case in point: CANNABlS STOCKS.
This Sector is Once-in-a-Lifetime – but it runs like clockwork.  Yet so many traders forget about pot stocks when they're cheap during the "off years" – aka not during an Election cycle.
And with the 2020 US Elections less than a year away with Multiple States likely on the ballot for Full Legalization including a potentially EPIC clean sweep of the NY Metro Area (NY, NJ, and CT), you would think more traders would be clamoring for cheap shares of Pot Stocks!
But again…that's THEIR lack of foresight. And their ignorance could be OUR opportunity!
Because in the next year alone, the MJ Sector will change FOREVER and the impact could send shockwaves down Wall Street.
So there may be no better time than RIGHT NOW for this Sector while MJ Stocks are cheap and gearing up for another paradigm shift in the industry.
And one such company is already staking it's claim as an industry leader for the next decade…
THE WOLF IS ISSUING AN IMMEDIATE ALERT ON AGEEF FOR THIS WEEK!
Halo Labs Inc. (AGEEF) is a Cannabis Extraction company that develops and manufactures quality cannabis oils and concentrates – two of the fastest growing segments in the cannabis industry.
The company is already among the top global leaders in these oils and concentrates, having produced over 4.5 MIL grams of oils and concentrates since inception for both their branded products and private label.
AGEEF is currently operating in California and Oregon, as well as in Nevada with it's partner Just Quality, LLC, and in Lesotho, Africa with the 205-hectare Bophelo cultivation zone.
AGEEF'S IMPRESSIVE NUMBERS TELL THE STORY
What makes AGEEF so attractive is that this ultra-low priced stock is generating EPIC REVENUES – even faster than Global names like MedMen – yet the Street is barely aware!
In just the last 3 Quarters of 2019, the company has seen Revenues skyrocket to over $27 MIL DOLLARS and still has another quarter to go!!!!
Halo Labs' Q3 Revenue Jumps 99% Year-Over-Year
And it's no wonder the AGEEF is generating such huge earnings…
This is a company that has shipped over 4.5 MIL Grams of oil and concentrates since April 2016 and selling over 200,000 grams each month!
So I don't know what kind of sleeping pills the Street is on, but AGEEF will NOT stay under-the-radar for much longer….
AGEEF POISED FOR AN EPIC TRIANGLE BREAKOUT?
After an epic rally from these very prices last Spring to highs of .68, there's no doubt that AGEEF had a challenging Summer/Fall as profit takers came into play.
But with the company's enormous Revenue Growth and potential finally becoming more clear, AGEEF began to show signs of life in November, slowly creeping up off support, and breaching the crucial 200 Day Moving Average (Red Line).
For the purposes of telling the entire story of 2019, we used a weekly chart below….
As you can see, AGEEF now finds itself in a Triangle Pattern nearing it's zenith – testing the upper ranges once again.  So it's do or die here folks.
From there, and with the aid of the company's LOW FLOAT, we'll be watching for a break of the 50 Day Moving Average @ .37 (blue line) to confirm a new Bullish Trend.
SO WHAT'S THE UPSIDE POTENTIAL?  A return to 52 Week Highs of .68 would generate up to 175% GAINS!
And we're not the only ones that see the potential here….
Respected Technical Analysis site, Investing.com, currently gives AGEEF it's Top Rating of
"STRONG BUY"!
So could an imminent rally be in the cards for AGEEF?  Let's find out why….
AGEEF – THE BIGGEST CANNABlS GROWTH STORY OF THE YEAR
Founded in Oregon in 2016, AGEEF has quickly made it's mark as a premier Cannabis extraction company that develops and manufactures quality cannabis oils and concentrates
Today, the company is a global leader in this segment, having produced over 4.5 million grams of oils and concentrates since inception.
This is due to a top management team coming from the likes of Goldman Sachs, Walmart, and Merrill Lynch, with expertise across all major cannabis manufacturing processes with deep industry knowledge, blue-chip experience, and a focus on innovation.
AGEEF'S GROWTH STORY
OREGON
AGEEF began their operations in Oregon – one of first legal states in the nation – and quickly rose to dominate 20% of the concentrates market within their 12,000 sq. ft. manufacturing facility + 6 acres of outdoor canopy in Jackson County.
NEVADA
From there, the company headed to Nevada, partnering with Just Quality, LLC, and opening an 8,000 sq ft licensed processing center by the Las Vegas Airport, currently capable of producing 1,400 units per day of their 3 brands and 1 private label products. AGEEF products are currently in 22 Nevada dispensaries.
CALIFORNIA
Next, the company looked south to the biggest Marjuana market in the world – California – where they manufacture and sell from their 15,520 sq ft licensed processing facilities with an estimated 12,000 grams per day.  The company currently has 5 white label contracts with top brands like Nectar, Falcon, and Caliva and partnerships to deliver to 260 dispensaries in SoCal – representing 99% of the market!
As you would imagine, the company expects the California market to significantly drive revenues higher going forward.
AFRICA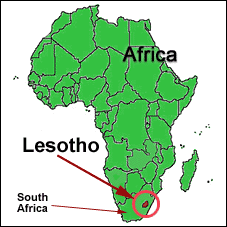 Lastly, as of this past June, AGEEF took a page out of MJ Giant, Canopy Growth's playbook, and set it sights on the tiny land-locked African nation of Lesotho by Acquiring Bopehelo Bioscience – one of the largest cultivators in the country.
Most people don't know that Lesotho was the first African nation to legalize medical marjuana. This + the country's 300 days of sunshine and low humidity has made it an optimal location to grow and export cannabis – especially to Europe.
Earlier this month, Bophelo partnered with a DNA Genetics company to develop world-class strains, both new and existing, for medical use and global export.
AGEEF'S INNOVATIVE PRODUCT LINES
With a consumer-centric focus, AGEEF markets innovative, branded, and private label products across multiple product categories and regions…
Among AGEEF's most popular branded products are EXHALE Extract Cartridges, the company's wildly popular line of edibles and oil concentrate under the HUSH brand, Black Hat, and more…
In addition, the company broke ground with it's DabTabs™ product that's not just innovative…but revolutionary!
DabTabs™ are proprietary ceramic discs that store a pre-measured single dose of either cannabis concentrate or oil. The DabTabs™ provide a cleaner, smoother, mess free way to consume full spectrum cannabis oils and concentrates via a vaporizer that capture the full benefits of the cannabis plant.
But don't let us explain it, watch this video below by Engadget to see just how revolutionary it is…
AGEEF also recently acquired Dispensary Track platform which will alleviate customer flow constraints experienced by dispensaries and enable direct consumer interaction.
THE BOTTOM LINE
We've barely even begun to scratch the surface with AGEEF and there's MUCH MORE to come in the coming days!
This is NOT a small company – and their reach and influence extends to so many more products and many business.
Without question, AGEEF looks like a company that will take the CANNABlS Industry into the next decade and stand shoulder to shoulder with some of the biggest names in the industry — especially as we head into the 2020 Elections!
So with Record-Breaking Revenues, could AGEEF be ready for another Breakout Rally this week?
Make sure you put it on your screen RIGHT NOW and Follow on Twitter for Updates + Play-by-Play!
We encourage all to read the SEC's INVESTOR ALERT before reading this Newsletter.
COMPENSATION:  GreenLeafPotStocks.com has been compensated one-hundred and forty-two thousand dollars cash via bank wire by a third party, Stellar Media Group, LLC for a one week Halo Labs Inc. advertising services contract. GreenLeafPotStocks.com does not own any shares of AGEEF.  GreenLeafPotStocks.com does not investigate the background of any third party. The third party may have shares and may liquidate it, which may negatively affect the stock price. This compensation constitutes a conflict of interest as to our ability to remain objective in our communication regarding the profiled company. GreenLeafPotStocks.com may purchase shares on the open market of any mentioned company following the dissemination of this email.